Footprints family
Parents, carers and other regular visitors to Footprints Pre-school Playgroup often say that it feels like a family. This is partly because, as we are only open for the 3 days with the same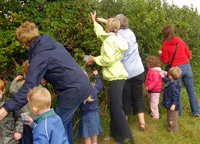 children attending each session, we can all get to know each other very well.
Our dedicated staff usually work whole sessions on specified days and soon build up positive relationships with each family; what's more, the children have the security of knowing who they are going to see each day.
We are also fortunate to have a number of experienced supply staff who know Footprints well and who are familiar to the children. We have their photos on display to make sure.
Parents, carers and extended family are encouraged to 'Stay and Play' and to get involved in various aspects of Footprints' life from learning nursery rhymes to attending social events, from washing toys to accompanying the children on outings.
We strive to make everyone feel welcome and valued at Footprints so we are always open to suggestions for improvement. See Feedback for ways of making your opinions known.