About us
We are a small, committee-run, family-orientated pre-school which runs 3 sessions per week at The Mustard Tree Community Church. We have use of the main room, 2 smaller rooms and a versatile outdoor space. Adults also have access to the kitchen.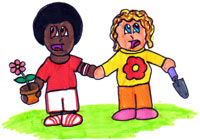 Footprints Pre-school Playgroup was established in 2001 by Jayne and Lynne - see 'Staff' in Prospectus (pdf). Their vision of a good quality, child-centred setting where everyone is valued and supported is our inspiration.
We follow the principles, requirements and curriculum guidelines of the Early Years Foundation Stage - more information in our Prospectus.
The word 'Playgroup' in our name was chosen as a reminder that play is fundamental to children's well-being, learning and development. It is important that children have fun at Footprints!
To read our latest Ofsted report, enter the URN 405536 here.